You may be a fan of Facebook. Or you may not. And to be completely honest, none of that really matters in the business of Facebook ads.
This is especially true when you need to find competitors Facebook ads.
The good news is that the social giant has made it incredibly easy to glean a spectacular amount of data — at least for now
Here's why.
Starting back in 2016, cries for transparency and accountability began to intensify. A number of events, like the Cambridge Analytica debacle, caused increased scrutiny for online advertising in general.
It was particularly bad for FB.
Since then, there have been congressional hearings and calls for the company to be split up (one from a former co-founder of FB).
Wait… Weren't we talking about see competitor ads on Facebook? Yep!
We'll cover three things about your journey to search Facebook ads.
How to manually search for ads using FB itself.
A list of the best tools to use for searching FB ads.
Tips on how you should go about using this competitive data.
Tutorial
Here's a video tutorial showing how to use Facebook's Ad Library to find competitor ads (and more).
Facebook Attempts Transparency (for now)
One of the policy changes has been to allow anyone (who has a Facebook account) to view the ads of any company who has or is running them on the platform.
Which is nearly everyone nowadays.
Not sure how to general public benefits from this, but businesses can learn a lot about:
Their competitors
Product research
General good ideas (not from competition)
Finding these ads can be a huge part of your overall social marketing strategy. And this article is a detailed look for how to do so. The nuts and bolts have changed a bit since this feature was introduced. This tutorial was updated in July of 2019 to keep it current.
How to Find Competitors Facebook Ads (Manually)
It's really easy once you know what you're doing.
1 Log into Facebook
Pretty sure this hasn't always been the case. But now you have to be signed in to view a company's ads.
Not a huge deal, but it's part of the reason I put "for now" earlier.
Facebook has a way to give things and then take them away when we get used to them. Organic reach — gone. See everyone's stuff you chose to see in the first place — get outta here. Instagram reach — soon to be gone?
2 Search for and Find a Page
The search bar at the top will likely help. Or you could go to a SERP and type: "Facebook" + "Company Name".
Once you're on the page, look on the right hand side. The column on the right lists a few different sections. Right below the "About" box is a section titled "Page Transparency". This is where you want to be.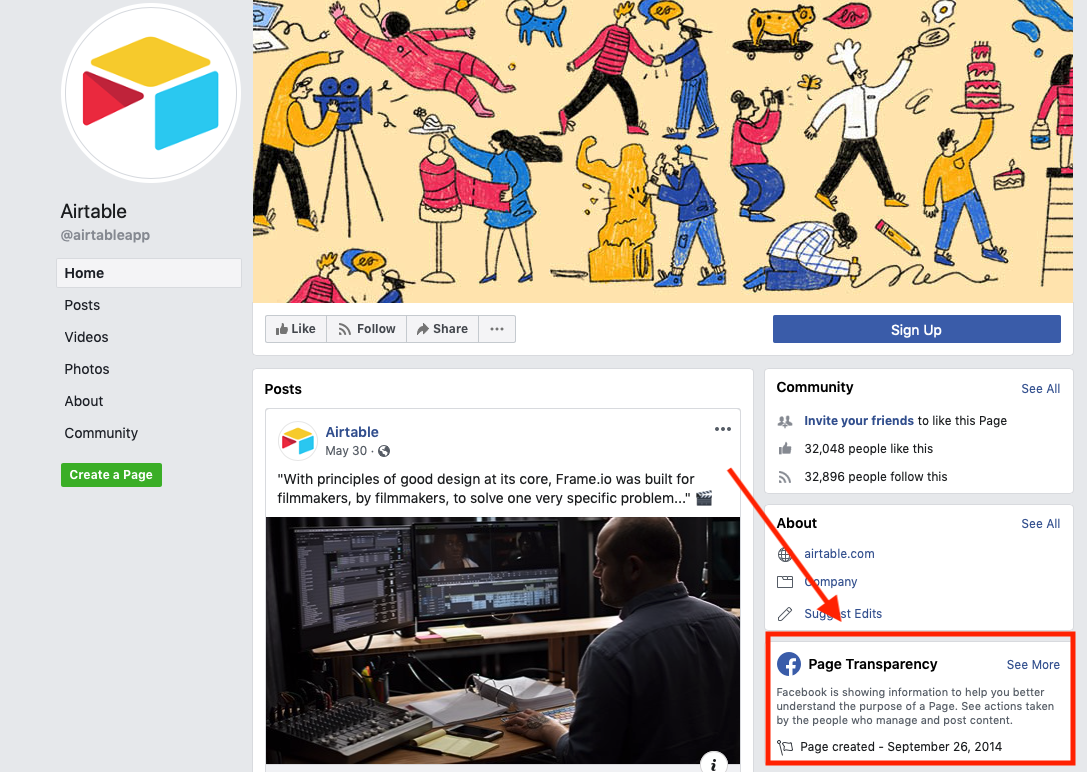 Click on the "See More" button in the top right of that box. This will take you to a pop-up with various tidbits of info.
3 Behold the Ads
Close to the bottom right corner of the pop-up, you'll see "Go to Ad Library". Click that and you'll be taken to a page with all of the current ads for that company.
Note: If you have a pop-up blocker, this won't work. Pause or disable that before moving forward.
Our example (Airtable) only shows running ads (green dot). You may find some ads that aren't deleted, but aren't running either.
Below each ad thee is a text link that says "See Ad Details".
While clicking this link doesn't share any deep details. In fact, you may wonder why you clicked on it at all. But it can still be useful in one way.
You see, when an ad shows the exact same copy, Facebook shows you there are multiple ads running in that case.
Key point: The images may be (and often are) different.
Here's a gif example of one of the Airtable ads.
Tools to Search Facebook Ads
AdEspresso Ad Gallery (Formerly Ad Examples)
AdEspresso, at one time, had a database of 600,000 Facebook ads for anyone to come and view for free.
Unfortunately, at the time of updating this article the ad gallery seems to lead to a mini-course on becoming a Facebook ad expert.
The ad examples there were very useful. But alas, they seem to be gone for now.
A lot of paid and free Facebook ad tools have shut down.
That said, the next option on our list is also free and powerful.
Facebook Ad Library
Not only can you search for the ad activity on individual pages, but Facebook has created an entire ad library.
And it's searchable!
Yes, you can search for an individual business right from here. But I wanted to show you how to do it manually.
Here's why.
Facebook has already changed several how to get to the ad library a few times. Knowing more than one way is beneficial to marketers.
If you go to the page, notice that search is available for "name, topic or organization".
This is so powerful.
You want to search a topic like "marketing", you can see all of the ads for that word.
Need to filter by a certain noun or name? You can do that, too!
In addition to what you can search for, you can see a bit more granular detail about the ads themselves.
You can search Facebook ads by:
Country the ad is running (region would be nice, but targeting countries is pretty sweet)
Active and inactive ads (good to know for which ads are working)
Specific page. This one is most interesting. You can (theoretically) search for a term. Then, enter a specific page to see if that company is advertising using those terms.
There are a few paid tools to mention
PowerAdSpy: Mainly for Shopify stores, but could still be useful in other situations. You can get 20 searches free, then pricing starts at $49/mo
Adsova: Essentially a large database. Price starts at $69/mo.
A Few Ideas on How to Use a Competitor Facebook Ads
Now that you know how to find competitors Facebook ads, I'll share a few tips on using them to your advantage.
Know the Competitor Correlation
Depending on the size of your company, there may be competitors who are behind you in terms of functionality, revenue, etc.. And there may be those ahead of you in key categories. Then, there are those right with you. Direct competitors.
Depending on where the competitor is in relation to you is important when reviewing their Facebook ads.
Know a Bit About the Competitors
Airtable isn't a competitor to Gist. But if they were, I'd probably like to know that the company raised 100 million late last year and is worth $1.1 billion.
Why?
They can afford a team for Facebook ads.
Copywriters, designers, PPC experts. These are either highly paid services or full-time employees for their brand that are almost certainly being used. They've probably got teams of people working on these things to drive growth.
So, I'm going to take a good hard look at their copy and design.
Anecdotal Rabbit Trail: Burger King doesn't invest in real estate research, but McDonald's does. Burger King just builds as close as possible, piggybacking off of the meticulous research of their competition.
Now, if the company isn't in a position to hire teams of ad experts, you may not need to emulate them as much.
But you can't see who they're targeting.
Using Airtable again, I noticed there were a number of ads tailored for videographers and filmmakers.
This makes sense. Their spreadsheet platform allows for a more visual style. Making it perfect for storyboards and other things traditional spreadsheet platforms can't do.
Most Important Tip in 3….2….1….
Wait. Patiently.
When you run your own Facebook ads, it's important to see how they perform. It's impossible to see the performance if you quickly pull them or change the ads.
Over time, your competitors Facebook ads will change.
If you're watching, you can see and document those changes. Ads that are no longer visible were likely the losers to a split test. Those ads that remain active for a long time are probably performing.
But you can't find that out in a week. It could take months to see a shift in strategy from your competitors. Then, you can use the data to direct your own Facebook ad funnel.
The cool part? It will be worth it.