Hypothetical. I know it's kind of a negative start, but let's just think of a forest fire. Firefighters from the US Forestry Service react to fires by trying to put them out. Makes sense, right? But that same Forestry Service created Smokey to bear to remind us that we are the only hope to prevent forest fires.
Education on disaster preparedness avoids danger and potentially lowers the chances of a fire. One of these scenarios, first responders
react
 to help in a stressful, dangerous situation. In the other, first responders
proactively
 prepare their residents for likely scenarios. Providing online
customer support
shares some striking similarities to both of these scenarios. This guide aims to show both sides of support — Reactive and Proactive — in a comprehensive way. But first, let's go over what
customer support
means in 2020 and beyond.
Customer support is a set of services a business provides to its customers with the intention of helping customers use the business' offering to the fullest extent, as well as help them resolve any issues they might encounter. It includes services such as onboarding assistance, answering customer inquiries, and product troubleshooting.  Depending on the business, these services might be provided in the form of phone or email support, a ticket-based helpdesk, a self-serve knowledge base, or a live chat support system.
The difference between customer support and customer service
Before we go any further and talk about the importance of
customer support
, how you can improve your business' customer support, and what skills you should look for in a customer support rep, it's crucial that we clarify the difference between customer support and customer service. A lot of people use these two terms interchangeably. However, they're not one and the same. The role of customer service is to provide customers with the value they paid for when they bought a particular product or service. Customer service representatives and agents are trained to maintain a positive attitude and represent the brand in the best way possible. They take a proactive approach to helping customers and actively work on building customer relationships. Customer support, on the other hand, is more reactive in nature. Its role is to react to customers' needs and help them whenever they request assistance.  Customer support representatives react to customers' inquiries that are submitted through a business' support channels and guide customers towards resolving the issue they've encountered.
The importance of customer support
Customer support has a large influence on the fundamental aspects of business growth, including customer happiness, loyalty, engagement, and feedback. Providing quality support to your customers is crucial for both retaining customers and extracting more value out of them. In fact, as much as 50% of consumers spend more with a business after having a positive customer support experience.
The Difference Between Proactive and Reactive Customer Support
In our businesses we can think that "support" helps customers who have problems. They're just putting out fires. Really this is only half of the customer success puzzle. It's what's known as "Reactive Support".
What is Reactive Support?
Reactive support is what happens when your customers have an issue that requires them to interact with support materials and/or personnel.
For example, if someone has to:
Go to your knowledge base because they can't figure something out
Send an email to your support email address if there's an issue with your product or services
Call your support team (or even you) with issues
Use live chat functions on your website to get in touch regarding a problem
Even mentioning your brand on Twitter while mentioning an issue
These are all things which will cause you (or your team) to react. And you should!
What is Proactive Support?
Proactive support is a series of planned interactions in which customers (and potential customers) have with your materials and team members before they have an issue.
Think of Smokey the Bear. There are commercials, pamphlets and even the branding that helps us know that if a campfire has smoke, it's not fully out. Some examples of proactive support include:
Onboarding either through emails or meetings
University material for software products or other complicated products
Chatbots and prompts that actually move people through your products and services
Frequently asked questions (FAQs) section to answer common struggles
Here's the Gist:
If you're only using reactive measures to handle support issues it could be hurting your revenue. Here's how.
1 Proactive Support = Better Retention
Customers who can't get success using your products may not complain — They may just leave. Things like onboarding increase the success of incoming customers while reducing the support burden. Increased success and fewer struggles means improving your overall retention and repeat buyers.
2 Being Proactive Leads to Better Sales
It may seem like support isn't really a tool to
drive sales
, but proactive support materials are often available to
everyone
 considering your products or services. Here's an example.
a software company with a University that is publicly available.
Once a prospect see the potential of the suite of software tools, they may want to see in-depth tutorials of exactly how it to set up and use everything. That's marketing…AND support. If said prospect buys, it's (at least partially) due to the University content. Plus, they're less likely to contact support — since they already have a decent grasp of the product. A number of proactive support materials could help relieve fears and give prospects the push they need to make the purchase.
The Need for Both Proactive and Reactive Customer Support
A support, or customer success strategy that includes both reactive and proactive measures will reduce the support burden by educating customers before issues arise. And you'll also be ready for the inevitable issues that will still arise. There will always be issues that cause customers to need your help quickly. But remember, that's only one side of the equation. Both proactive and reactive support can work in tandem to increase the number of customers who have success with your products, oftentimes in a shorter period of time.
The Gist
Reactive Support options are the means a company uses to help customers after they have a problem.
Proactive Support options are the means a company uses to help customers before they have a problem.
Using both together can reduce support burden, improve customer success and increase retention.
Reactive Online Customer Support Options
We've defined "Reactive Support" as any way that your brand or website "reacts" to a customer inquiry. Now, we'll see a detailed look at seven online customer support channels that you may want to use for your business.
The Quick List
Live Chat Support
Phone Support
Knowledge Base
Email Support
Social Support (Twitter, Facebook)
Chatbots (for after hours)
Remote Support (IT)
Live Chat Support
Live Chat
is a chat function on your website (or in your app), often accomplished by using a software product (like Gist). This option allows a customer to actually ask you any question online, while you're there. (Or a potential customer could actually ask you about your product, too.), You set office hours for yourself or your support team and you are available for your customer when they are on your site right then and there.
Benefits of Live Chat Support
Inexpensive: Live Chat is fairly low cost. You can actually get started for free with Gist. Using chat gives a higher-quality feel to your support without a big price tag.
Convenience: Most people don't want to pick up the phone and wait for an answer. And they don't want to explain their problem. Opening up a chat and quickly typing your issue and expecting someone to get back with them within a few seconds is very convenient for users
Fast Problem Resolution: With Live Chat you don't have to get off the phone and figure out the problem. The support team can handle the issue right then and there — while your customer is minimally bothered.
Potential Problems
Not having a dedicated person to handle live chats (but this can be alleviated with a bot)
Phone Support
Phone support is typically a dedicated customer service number which clients call if they have any problems. This solution can range from an answering machine, a third-party service or a dedicated team member/staff to handle incoming calls.
Benefits of Phone Support
Personal: Phone support is personal. This is one-to-one, dedicated time where it's just you and the customer. They're explaining their problems. You're understanding them and then helping them out.
Focused and Clear: Focused and clear meaning there's no misunderstanding. Text formats such as chat can lead to misunderstanding problems or misspellings. On the phone, you can hear them, ask them questions and understand their problems— to help them faster.
Cleaner Handoff: Sometimes, you need to transfer them to a different department or put them on hold and ask a question to the appropriate person. It's easy to put someone on hold and send the call to the right person.
Potential Problems
Higher costs of the phone lines and either the service or team member to take the calls.
Knowledge Base
A knowledge base is a series of articles or videos which help customers with common issues. This support tool is great for things like setting up your product, using a particular function or to learn more and get more out of your products and services.
Benefits of Knowledgebase
No Labor: There's no labor costs once you create the knowledge base. As long as your product and services don't change — it's a one and done solution.
DIYer's and Introverts: There are a lot of people who just want to do it themselves. There are also introverts who don't want to pick up the phone and talk. Both would rather resolve it themselves.
Faster Resolution: A knowledge base can actually be faster for users (and your company). A lot of times clients just need to search and find out how to do a certain thing. Then, they can quickly take care of it themselves.
Potential Problems
Service-based businesses may not be able to use a knowledge base (but could benefit from an FAQ).
Email Support
Next up we have email support. Maybe you are already using
email marketing
, but would like a ticketing system. Or, you want customers to be able to email support at a dedicated address and send it directly to the inbox of the appropriate team member.
Benefits of Email Support
Record-Keeping: Emails make it far easier to keep records. You have an document that you can archive, go back to and you can keep track of the conversation. There's a chain of custody for customer issues. Great for accountability and liability.
Lower Labor Costs: Email support for a full day of issues can (often) be done in a couple of hours. Potentially businesses can have fewer dedicated people, because they're not on the phone all day. Messages can be read faster. Common issues can be quickly resolved or a support article can be sent and help users quickly.
Attachments/Surveys: Third is attachments, a lot of times people need to take screenshots or attach documents now this work works both ways incoming and outgoing you can also send surveys really easily through the email right after a support interaction.
Potential Problems
There's a potential balance problem. Emails can come in at all hours. Dealing with issues quickly versus getting work done can become difficult.
Social Support
Next up is social support on something like Twitter or Facebook this is where customers reach out to you instantly with problems or issues
Benefits of Social Support
Out in the Open: It's public. Now, this one could be good or bad. But if issues are handled well, this can actually be positive marketing for your company.
Highly Convenient: Social support is possibly the most convenient support method for customers. Most people are extensively on social media. If they have a problem, they're likely already posting about it. Listening for these things can help you curb negative sentiment.
Faster Problem Resolution: Notifications are built into social media platforms. So, if you create a Twitter handle that is dedicated to support; your support team will know exactly when a notification happens and can handle it right then in there.
Potential Problems
It's public. Your (support) business could literally be on Facebook.
Chatbots
Chatbots may not seem like it's a support option, but it can actually work great for those after hours where you don't have a team member handling requests. Here's a screenshot of a simple chat bot that can gather the customer's problem (read from the bottom up).
Benefits of Chatbots
24/7 Agent: Chatbots are there when you're not. It's an after-hours voice for your support team and for your website.
Can Point to Materials: A more robustly configured bot could point to a knowledgebase article. If you set it up to recognize certain keywords, a helpful article can be shown to the customer. This can even solve the issue before it becomes a full-blown support interaction.
Zero Labor Costs: Bots work for free. Once you set up the prompts and scripts to interact with the customers, that's it.
Potential Problems
Chat bots are still fairly easy to spot and could be impersonal, which is why we recommend them for after hours.
Remote Support
The last reactive customer support option we're gonna go over is remote support. This solution is more for computer-based tools, because they allow you or your support team to "take over" the computer of your user.
Benefits of Remote Support
Near 100% Resolution: Your trained team does the fix, not the customer. If a rep can access their machine, it's likely they'll fix the issue quickly.
Highly Convenient (for clients): You take over a client's computer. You fix it for them and say, "here you go".
Fast Problem Resolution: The majority of your support tickets are going to be handled quickly, because you or your team often know how to fix the issue(s).
Potential Problems
Definitely a potential liability issue. Your team is directly affecting a device that is owned by someone else.
Proactive Online Customer Support Options
proactive customer support channel is something that you do before there is an issue or problem with your product or service.
The Quick List
Onboarding
University or Resources
Chat Bots
Policies
Frequently Asked Questions
Onboarding
Onboarding is where you actually have a meeting, phone call or send a series of emails with your new customers to;
Get everything you need from them
Help set client expectations (for what to expect)
Benefits of Onboarding
Improves Customer Success: The better your customers know how to use your product or services the better. Or, if they know what's going to happen; they're more likely to be happy and successful.
Retention: tIf clients are happy and have success with you, that means they're gonna stay longer (or purchase more from you in the future) which means better retention.
Referrals: If you're yielding the set, expected results, customer success happens. Not only will you retain those clients, but referrals begin to roll in.
Potential Problems
Personal onboarding can be time consuming.
University or Resources
Essentially this is some type of training that you can provide for your customers (or even potential customers). A series of content to help set your products up or get the most out of them.
Benefits of University or Resources
Learning Before Doing: This is very proactive. I know, I know. That's what we're talking about here. But by providing resources, clients can go learn all about your products, see them in action and learn before they do.
Marketing Tool: Not only does training reduce the support burden of your team, but it actually helps people see the benefit of your product before they purchase and helps make the sale in many cases.
Increased Usage: Education materials offer a map of all you have. At Gist, we offer a dozen different tools for the marketing, sales and support categories. It can get complicated, but our university helps break it down into manageable pieces and to see the power of all those tools.
Potential Problems
Takes time and effort to create these resources.
Chatbots
Again, you may not think chat bots is a support tool at all, but it can actually be used both for reactive and proactive customer support.
Benefits of Chatbots
Gently Guiding: Bots are great for guiding someone through your content (or even your software) to help them get the most out of it. Bots help customers stop when they need to stop, speed up when they need to speed up, and move through at an overall comfortable pace.
Increase Installs: Offering free trials is a great way to get email addresses, but getting the user to install after they sign up is difficult. Some think it's too hard. But having a digital assistant to guide them through should increase conversions.
Reduced Support Burden: Well-created chatbots preemptively know where the trouble spots are and, at just the right time, show your new customers those new areas of your product without leaving them scratching their heads.
Potential Problems
Bots can be impersonal when customers expect more personal interaction.
Policies and Guarantees
No. Not the 30-page fine print policies that you see in most big businesses. Think of this more like your onboarding process written out into a policy. Say everything you need from the client, what they can expect you to fulfill and the results that you can guarantee on your end.
Benefits of Policies and Guarantees
Upfront and Clear: This is a set of guidelines, they're up front and clear for both your team and the customer to know what's going to happen.
Sets the Expectation: When customers know what they can expect from you it really alleviates any misconceptions about your products and services.
Reduces Liability: Having it all in writing reduces the liability, because you've told them everything (and possibly made them sign/acknowledge it).
Potential Problems
Not a whole lot of downside here. You should have policies openly available for your visitors and clients.
Frequently Asked Questions (FAQs)
You ever feel like you're getting the same emails (from customers) over and over again? If so, you'll want to get an Frequently Asked Questions section setup sooner rather than later.
Benefits of Frequently Asked Questions (FAQs)
Reduces Support Burden: Support teams oftentimes have many different questions that come up but most of them can be boiled down into six or seven different questions or categories. These common themes can be comprehensively answered on your site.
Marketing Tool: If the FAQ is on your site, it's another thing that people can see before they buy. These things could remove fears of prospects making them more eager to buy.
Educates Customers: FAQs help customers and/or prospects better know what to expect with your tool.
Potential Problems
None. You should have email templates or an FAQ in most cases.
Improve Your Customer Service (Both Proactive and Reactive)
Improve customer retention
A mere 5% increase in customer retention can boost a business' revenue
by up to 95%
. This is because repeat customers
spend 67% more
with a business compared to one-time customers. Solving customers' issues and answering their questions quickly can do wonders for improving your business' customer retention.
Generate positive reviews and testimonials
Quality customer support helps to create happy and loyal customers, which, in turn, results in positive reviews and testimonials. These serve as social proof for your business, and make consumers feel more comfortable about doing business with you.
Gain a competitive advantage
If your business is in a highly competitive market, you're most likely always on the lookout for ways to gain an advantage over your competition. Providing excellent customer support is a great way to differentiate yourself from your competitors, and even get their customers to switch over to doing business with you.
Improve your product or service
Providing better customer support also means improving communication with your customers, which can lead to learning valuable information about your target audience, their needs, and pain points. This, in turn, will allow you to improve your offering and have an easier time getting new customers, as well as retaining existing ones.
Key elements of customer support
When looking to create a customer support strategy, you'll want to focus on the following key elements:
Style
The first thing you'll need to do is decide on the style of support you're going to provide. The two main styles you have at your disposal include:
One big answer approach – Involves answering every query with a highly comprehensive reply that covers all possible scenarios. This could include providing an answer that's six to seven paragraphs long and includes links to technical documentation or videos. The one big answer approach is suitable for businesses that rely on their knowledge base for dealing with most customer inquiries.
Conversational approach – The conversational approach, as its' name implies, relies on having an actual conversation with a customer, either via phone, email, or live chat, and getting to the bottom of the issue.
Tone and voice
Tone and voice refer to the way you're going to talk to your customers. Are you going to be formal and reserved, or casual and relaxed? You'll need to decide how formal you want your replies to be in specific scenarios, as well as if you're going to take advantage of modern communication trends such as GIFs and emojis. Deciding on these things in advance will help you have an easier time training your customer support staff and ensuring a consistent customer support experience.
Speed
You'll also need to decide on response speed. Is speed of response crucial for your business? If so, you'll want to put in the time and resources that are necessary to respond to your customers within 24 hours. Depending on your business and your available resources, it might not be realistic for you to respond to every customer inquiry in 24 hours. If that's the case, let your customers know when they can expect a response and make sure to stay within that timeframe.
Coverage
Is your customer support team going to be available 24/7? Or just Monday to Friday during specific hours? You'll also need to think about which holidays you're going to observe and if you're going to provide any form of support during holidays.
Language
Another important thing you'll need to think about is the languages you're going to support. While English will be the most obvious choice, you'll also want to put some thought into supporting other languages if a large part of your
customer base
speaks another language.
Process
Finally, you'll need to devise robust processes to help you manage customer support. In most cases, you should have specific processes that outline how you're going to deal with emergencies, escalation, refunds, and security. Your customer support processes will change and evolve over time, but it's crucial that you establish them as early as possible.
How to improve your customer support
In this section, we're going to show you five distinct ways you can improve your customer support and improve customer satisfaction and retention in the process.
Respond immediately
While you won't be able to help your customers as soon as they submit a support request, it's important that you let them know that you received their request and that you'll get back to them as soon as possible. It's crucial that you communicate hold times, especially if you offering phone support. No one likes being put on hold, especially when they have an issue that they need solved. Remember not to promise customers something you can't deliver since this can only damage your company's reputation and make your customers even more unhappy.
Be honest and realistic with them. If the issue they're experiencing is your fault, admit it, apologize to them and try to fix it as soon as possible. Make sure that you personalize your response for each customer so that customers don't feel as if they're just a number. Use their first name in your response, as well as any other details that might be relevant to their request. Personalization should be an integral part of your customer support approach since as much as 84% of consumers state that
being treated like a person
is crucial for deciding to buy from a business.
Hire the right people
No matter how good your support processes are, your business won't be able to provide great customer support without excellent customer support reps. While everyone can be trained to do customer support, some types of people will always be better at providing support than others. You need to find these people and get them on your team. Customer support deals with unsatisfied customers who are often difficult, rude, and emotional on a daily basis. This makes it crucial that you fill your customer support team with mentally tough people that can deal with pressure and chaos. Your customer support representatives need to be able to deal with all customer complaints and inquiries professionally and without getting emotions involved.
They also need to be ready to move on to the next support request straight away, no matter how unpleasant the previous one might have been. The best people for a customer support role will have a natural desire to help others. They'll express genuine empathy and be able to pick up on emotional distress signals. Anyone working in a customer support role needs to be able to put themselves in the customer's shoes, as well as quantify the pain the customer feels. They also need to treat the customer with respect at all times, regardless of how the customer behaves.
Provide proper training
In order to be able to help your customers effectively, your customer support team needs to go through proper training. What this training will entail will depend on your business and needs. Since every company is different, there is no single best way to train your customer support employees. In most cases, you'll want to cover your company's vision, product knowledge, and industry insights with your training program. Effective time management and problem-solving are other skills you might want to consider helping your support team develop. Out of all these, product knowledge is probably the most important thing you'll want to educate your customer support reps on, since it will be impossible for them to assist your customers effectively if they lack knowledge of how your product or service works. Your reps need to have an in-depth knowledge of your offering. If possible, make each of your reps go through an onboarding process with one of your experienced product specialists so that they can really cover every aspect of your product. You should also host monthly review sessions in which you'll review all the challenges your team faced and discuss how they can deal with new issues that arise. If budget allows for it, it would also be wise to invest in professional customer support training courses from companies such as
Alison
.
Empower your customer support team
If you want your customer support team to be highly effective, you need to empower your reps in order to promote employee satisfaction and loyalty. Show your customer support team how much you value what they do and include them in the decision-making process. This will go a long way in creating a friendly and productive atmosphere and ensure that your customer support representatives are giving their maximum as well as being happy and satisfied in their role.
Be available on multiple channels
Implementing additional support channels is one of the best ways to improve your customer support. Which channels you're going to use to provide support will depend on your available resources, as well as the needs of your customers. If you have a rather small customer support team and a large customer base, providing phone support might be unrealistic. In that case, you should opt for offering email or live chat support instead. You should also take your customers' demographics into account when deciding on support channels. For example, did you know that people under the age of 25
prefer using social media
to communicate with a business' customer support?
Consumers aged between 25 and 34 prefer email communication, while those over the age of 55 prefer talking with customer support
over the phone
. Additionally, you'll need to consider your products or services when determining the right support channels you should use. For example, an online clothing retailer will mostly receive questions on billing, returns, and refunds (which can easily be provided over email), while a
software
provider might need to answer more technical questions (which are more suited for being discussed over the phone or via live chat). The most common support channels you'll need to choose from include phone, email, live chat, and helpdesk.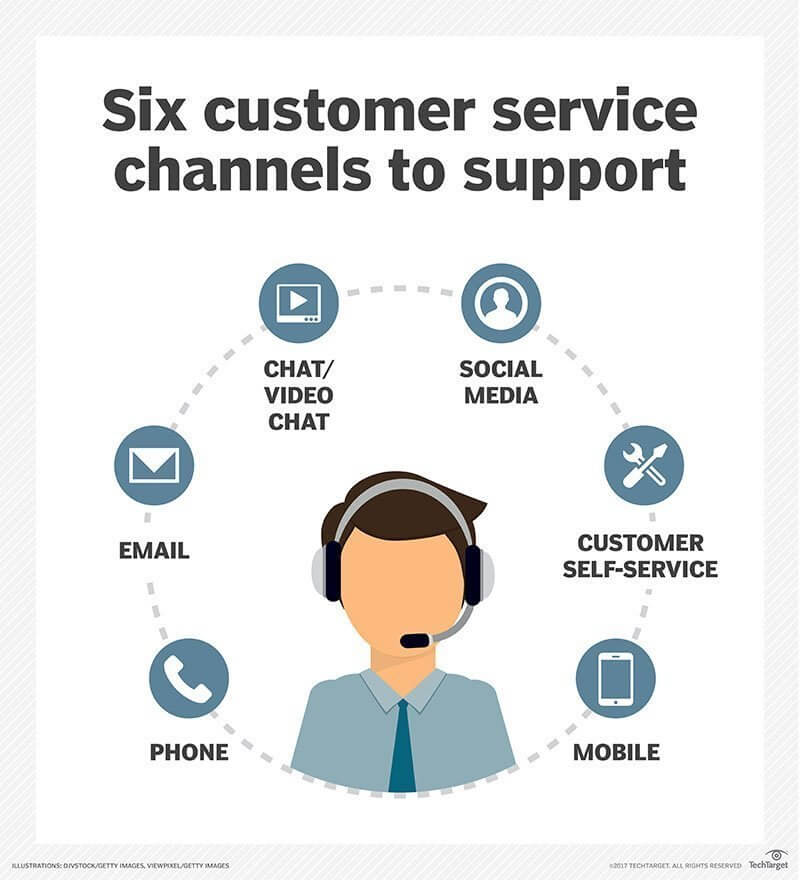 Measure and analyze your customer support results
Finally, you should actively measure and analyze your customer support team's results at regular intervals. This will provide you with insights that will enable you to improve your support strategy and help your team assist customers more effectively. While customer feedback and NPS surveys can be of great help when it comes to measuring your support team's performance, you should also use employee satisfaction surveys to learn how your reps feel about their job.
The results of these surveys will allow you to understand what needs to be done to improve your team's performance and happiness while also increasing customer satisfaction.
Customer support software must-haves
There are certain software solutions that can make your customer support team's life a lot easier and enable it to help your customers more effectively. These include ticket systems, customer feedback systems, knowledge base systems, and live chat software.
Ticket system
A ticket system will enable your customer support team to prioritize work and resolve customer issues efficiently. It helps your reps stay organized and allows them to have an easier time tracking and managing all customer support requests. Another benefit of a ticket system is that it provides you with an opportunity to find out where your support team spends most of their time so that you can optimize your support processes or educate your reps better so that they'll be able to deal with support requests more effectively.
Customer feedback system
Having a way to gather and analyze feedback from your customers is crucial for improving your customer support, as well as your product or service offering. A customer feedback system can help you send out customer surveys and then analyze their results to gain a better understanding of your customers and find ways to improve your customer support to increase customer satisfaction and loyalty.
Knowledge base
If your customer support reps keep running into the same questions from customers over and over again, your business would most likely benefit from a knowledge base. A self-serve knowledge base containing answers and guides for the most common issues your customers encounter would help you reduce the number of customer support requests you get and decrease your support team's workload significantly, allowing them to dedicate more of their time to more complicated customer issues.
Live chat software
Businesses that offer live chat support generate five times as many sales compared to companies that don't assist their customers through live chat. Additionally, the majority of consumers claim that they
prefer
communicating with businesses through live chat. All of this makes using a live chat software solution for your business a no-brainer. Implementing live chat will allow you to help your customers quicker, as well as enable your customer support reps to assist multiple people at the same time. It will also allow your reps to take a proactive approach to customer support and give them the opportunity to learn more about your customers' needs and pain points.
Customer support in 2020
Customer support involves helping customers use a business' products or services to the fullest extent, as well as assisting them with any issues that may arise. It's different from customer service, which entails providing customers with all the value they paid for when they purchased a product or service. In the past, customer support was considered a cost center. However, today's businesses understand the importance of customer support for improving customer satisfaction and loyalty. Customer support can help businesses increase customer retention, generate positive reviews and testimonials, gain a competitive advantage, and improve their products or services. The key elements of customer support include style, tone and voice, speed, coverage, language, and the support process. This means that businesses need to decide how they're going to approach customer support, what kind of tone and voice they're going to use, how fast they're going to respond to customer inquiries, during which hours their support will be available, and what languages they're going to support. When looking to improve customer support, businesses should start by putting in the effort to respond to customer requests immediately, even if they don't have a solution to the customer's problem yet. It's also crucial to personalize your customer support response for each specific customer. Furthermore, businesses need to focus on hiring the right people for customer support roles. A support representative should be mentally tough, highly empathetic, and respectful. They should also have extensive product knowledge, as well as go through a company training program that will enable them to learn more about the company's vision, as well as develop time management and problem-solving skills. It's also important to empower your customer support team by showing how much you value them, as well as including them in the decision-making process. Having a good customer support service in today's age inevitably involves being available through multiple channels. Which channels you're going to support will depend on the preferences of your customer base, as well as the nature of your offering. You'll also need to employ the necessary software to help you manage all the customer support requests you receive from different channels. In most cases, this will include using one or more of the following: a ticket system, a customer feedback system, a knowledge base, and live chat software. And now, onto the individual support plan templates.
Online Customer Support Plan for Solopreneurs (Just One Person)
Need support options as Solopreneurs (entrepreneurs who work by themselves)? Here are our recommendations.
Examples of Solopreneurs:
Freelancers
One Person Agencies
Consultants
Ecommerce
Besides maybe a contractor here and there — you're on your own. Providing support for your products and services it doesn't really have to be difficult and we're going to go over the options right now.
Onboarding is Critical
The first thing you want to do after closing a sale is to onboard the new client. This can be a series of emails, but is more likely either a phone call or even a personal meeting where you and your customer go over everything needed to begin.
Things to Cover in Your Onboarding
What the customer can expect (results, timeline).
How to get the most out of what you're doing, including how they can help.
Collecting all necessary information from the client.
Live Chat Makes You Seem Capable
If you have a website, it's a great idea to offer a live chat during business hours. Say you work from 9 to 5 every day. You can let customers know that they can go and chat anytime. It's easy for them (and for you) to communicate quickly. Depending on your line of work, it could stave off unnecessary, long cell phone calls.
Separate Email Domain for Support
For those times that you're not "on the clock" — you can push support to email. I (highly) suggest providing a dedicated email address like "support@[domain here]" or something similar. If for nothing else, it keeps things separate. You can forward it to your primary inbox but this allows you to keep those emails labeled differently — making them easier to archive and search.
Some Sort of Education Resource
A limited knowledge base, a frequently asked questions section or even a short explainer video go a long way to reducing support headaches. Resources allow customers (and even your prospects) to know what they can expect before (and right after) they become your customer.
Phone Support (Optional)
This one could either be helpful…or unnecessary. If you're a Facebook ad expert for local businesses — they likely have your cell number anyway. But if you have an ecommerce store, have a 1-800 number routed to your cell could give off a sense of professionalism and get people to make repeat purchases.
Online Customer Support Plan for Smaller Small Businesses (5-10 Employees)
If you have fewer than 10-employees, maybe a small office or even a remote crew — support can be tough. Especially if there's not someone dedicated to customer success. But you can still provide help to your customers and it doesn't have to be difficult. Let's go over the options
Live Chat
One of the first things you can do is offer live chat during business hours. It's simple it's non-invasive and if somebody's on your website they can interact with you both as current customers and potential customers for you to answer their questions about your products and services or answer any specific issues they are dealing with at that moment.
Email Support
Next up, you want to offer email support by having a dedicated email address like support@ or help@, which allows those emails to go to a specific account. And anyone on your team can actually answer those emails as they come in — sharing the support burden.
Chat Bots
Now I know chatbots don't seem like a support option, but after hours — when there's nobody answering tickets — a bot is there to handle the chat. Chat bots can help guide people through potential problems or suggest blog posts knowledgebase articles and FAQs that commonly occur to help reduce that support burden and maybe even solve the problem before it goes to one of your team. Which brings us to our next point which is a limited knowledge base.
Knowledge Base
If there are certain questions that keep coming up or certain processes that are always difficult for your new customers to get a hold of you should create a knowledge base article or a short video explaining those things to them. Doing these things can dramatically reduce the support burden, it can increase your customer success and help your overall business
Online Customer Support Plan for Larger Small Businesses (11-200ish Employees)
Your business may not be a fortune 100, but if you have 20 or more employees —there's likely someone (or even multiple people) dedicated to support. At this level, you can provide more comprehensive support to your customers. So, let's go over the options
Live Chat
Offering live chat during business hours or even 24/7 support could be on the table. if you, say ,hire a remote worker to work the overnight shift. Live Chat is a great way to interact with your customers right when and where they need help. Direct interaction is powerful and it's oftentimes a less expensive option as far as the software that you use. You can even get started for free using Gist 😉
Email Support
The next option is email having a dedicated support email or a structure that creates tickets is a great way to archive all of those issues. You can go over the data later to find trends and common problems. Email support is also a great way to interact with your customers in a way that can send attachments or use surveys to get their opinions.
Social Support
social support this is a fast-growing way to provide support to your customers. A customer can mention you on Twitter (or you can have a dedicated support twitter handle) and you hear about it instantly. Your support team you can be notified of issues immediately and handle things very quickly. If issues are handled well, they could even improve the brand awareness.
Phone Support
Having dedicated hours for phone calls to come in and handle those support issues is going to be a great way for customers to talk with a live person. Phones can improve customer retention by resolving issues quickly. On the phone you don't misunderstand the text you can just handle the business right there with the customer.
A Comprehensive Knowledge Base
Last up we're gonna have a comprehensive knowledge base something that covers every facet of your products and/or services. Someplace where you can refer customers if they have a common issue like installing a certain product of yours. If they call or live chat your support team can quickly send them a link or tell them where to go to find a video to help install. Or say if they have any other issues your support team can direct your customers to your comprehensive knowledge base.
Side Note:
 You can even have a great onboarding system to where you can run people through these knowledge base articles before they have these problems.
How Does Your Company Offer Customer Support?
Are there any channels you didn't see on this list? Which support method has most benefited your business and customers? Let us know! You can usually find me in our
Facebook Community
.